Breakfast Gift Basket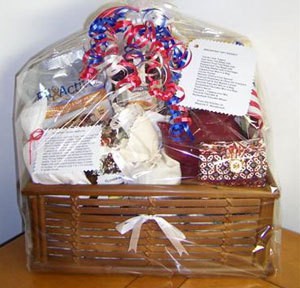 Contents
tea for one teapot
Earl Grey tea bags (24)
passion fruit tea bags (24)
peppermint tea bags (24)
tea bag wallet with 4 tea bags
cappuccino mix in a bag
clover honey
Morello cherry fruit spread
honey in 5# jars from a local beekeeper*
Directions:
*I poured some honey in a clean jar which was sterilized in my dishwasher. I put some Saran Wrap over the top, screwed the lid on tightly. Finally I taped the neck of the jar closed and sewed a jar topper out of scrap fabric.
Some time ago I purchased a package of new chef's aprons which I always keep on hand for whenever I'm baking or cooking. So I added one in the gift basket.
I purchased a new tea for one teapot from a website and attached the following label:
Warm your teapot:
While the water is heating, fill your teapot with hot tap water to preheat it. This prevents cracking that can occur when boiling water is placed in a room temperature teapot, and it helps the brewed tea maintain the proper temperature. Discard the water once the pot is warm.