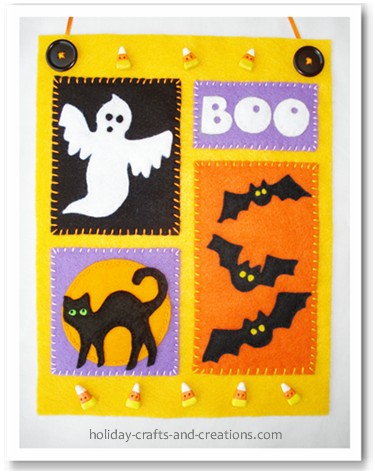 Instructions for Homemade Halloween Decorations:
Mini Halloween Banner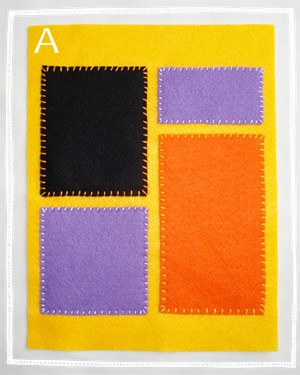 Step 1:
Print out the
Halloween Banner template (PDF file)
. Cut apart the four designs. Trace and cut out the ghost background on black felt, the "BOO" background on purple felt, the cat background on purple felt, and the bat background on orange felt.
Evenly space the felt pieces on the 9" x 12" yellow felt. See photo A to see how this will look.
Step 2:
Pin the felt pieces into place so that the felt won't move as you are stitching them onto the yellow background. See photo B. Sew the pieces on using the whip stitch around the edge.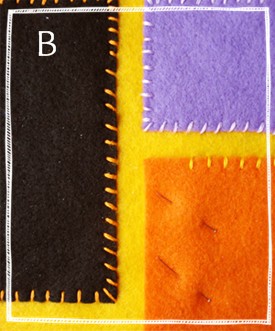 Step 3:
Now trace and cut out a white ghost, a white "BOO", a yellow moon, a black cat, and black bats.
Tip:
To easily cut out the circles in the "B" and "OO" try using a standard hole punch. If it does not cleanly cut the circle out all the way, you may have to trim it by cutting the hole a little bigger.
Stitch these pieces onto their appropriate background by using the running stitch. See the photo at the bottom of the page.
For the eyes:
The ghost -
You could use a hole punch to make the eyes. Use black felt stitched on with one or two stitches, like in the form of an "X". (The mouth too).
The cat -
Use green felt stitched on with one or two stitches. The black part of the eyes can either be a French knot stitch or black seed beads.
The bats -
Use yellow felt stitched on with one stitch or one French knot stitch.
Step 4:
Sew the ribbon onto the back of the banner in the two upper corners. Sew it on right behind where each of the black buttons are going to be, so the buttons will later hide the stitches from sewing on the ribbon.
Now sew on the two black buttons over the stitches from the ribbon.
Step 5:
Sew on 3 candy corn buttons across the top of the banner between the two black buttons. Then sew on 5 candy corn buttons across the bottom of the banner. To make your own buttons see our
Clay Candy Corn
page. There is a section on that page on how to turn the clay candy corns into buttons.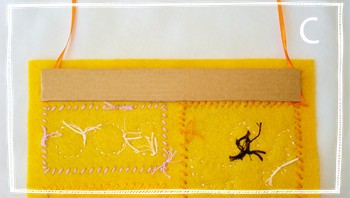 Step 6: Optional
If your banner tends to bend forward while hanging on the wall, you could do this optional step.
Cut about a 1" X 8" strip of cardboard and glue it to the back of the banner. See photo C. Only glue the two ends of the cardboard strip and be sure to place the glue right behind the two black buttons. This way no glue will show from the front. You could use any type of glue you would like, but we would suggest using hot glue.
I found this here:
http://www.holiday-crafts-and-creations.com/homemade-halloween-decorations-banner.html